Pure Beauty Bridal Collection of 2022
Our Pure Beauty 2022 bridal collection is inspired by ethereal beauty. On the big day, every bride strives to look her best - that's what our brand wishes to express when we created the name of our latest collection. Our collection, inspired by pure beauty, was designed based on the latest bridal trends, taking into account classic style elements as well. Romantic elements, such as delicate lace appliqués and use of satin materials, as well as modern elements, such as shiny details or the very fashionable block heel for our bridal shoes, can be found in our collection. Silver and rose gold colors dominated the design of our jewelry, which are becoming more and more popular among brides.
Every year, our bridal shoe collection is based on comfort, which will continue to be the main focus of our collection in 2022. The shoes alone determine the outcome of the big day and affect the mood of the bride. G.Westerleigh aims to make brides feel comfortable, thus contributing to their radiance. In G.Westerleigh accessories, premium quality meets detailed workmanship. All models are individually made by hand and have a soft leather sole and an inner sponge lining.
When planning, we take into account that we create accessories that harmonize with each other.
We have created a few collages from the novelties of our Pure Beauty collection, which our brides can be inspired by.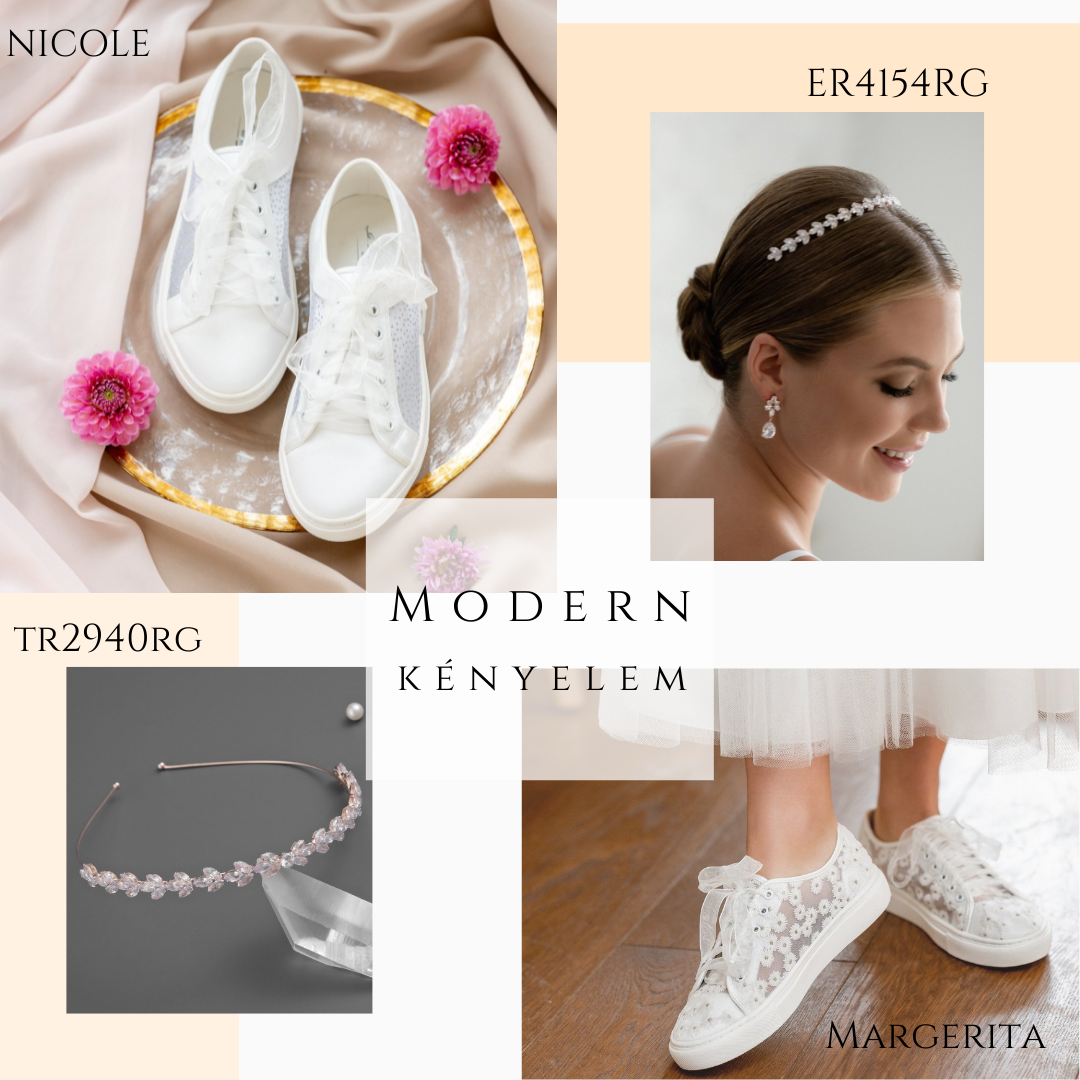 We recommend our bridal sneakers for outdoor weddings or even as a second pair of shoes on the big day. Our latest rose gold jewelry harmonizes perfectly with our sneakers, thus creating an exciting effect.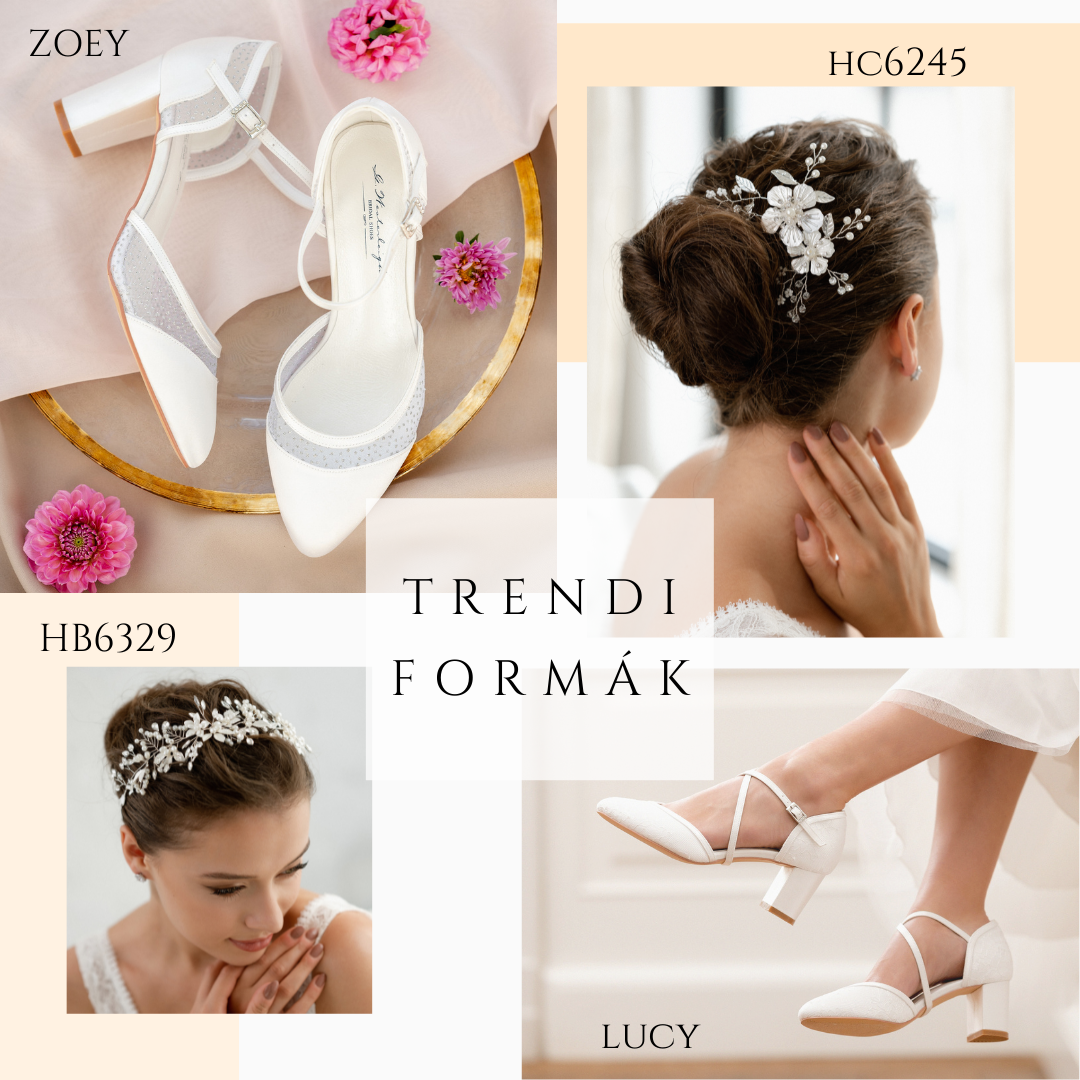 Delicate glitter, the use of different materials, and flower motifs are cornerstones of bridal trends every year. In our block heel models, it is easy to maintain balance and the heel is guaranteed not to get caught even in the roughest cobblestones.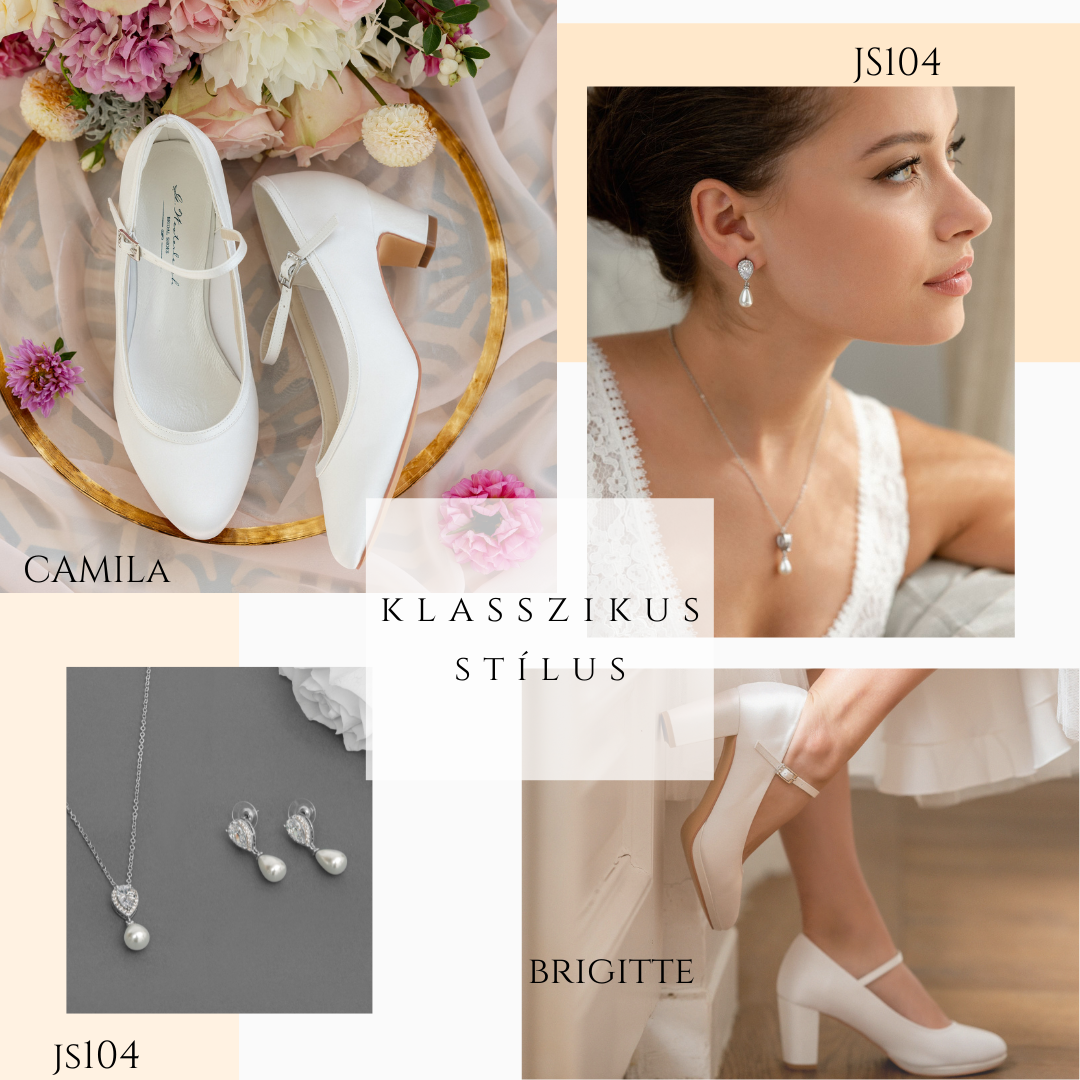 Every year, we also try to favor brides who like tradition. Classic designs such as satin material, crystals and pearls can be the perfect jewels of a bridal look.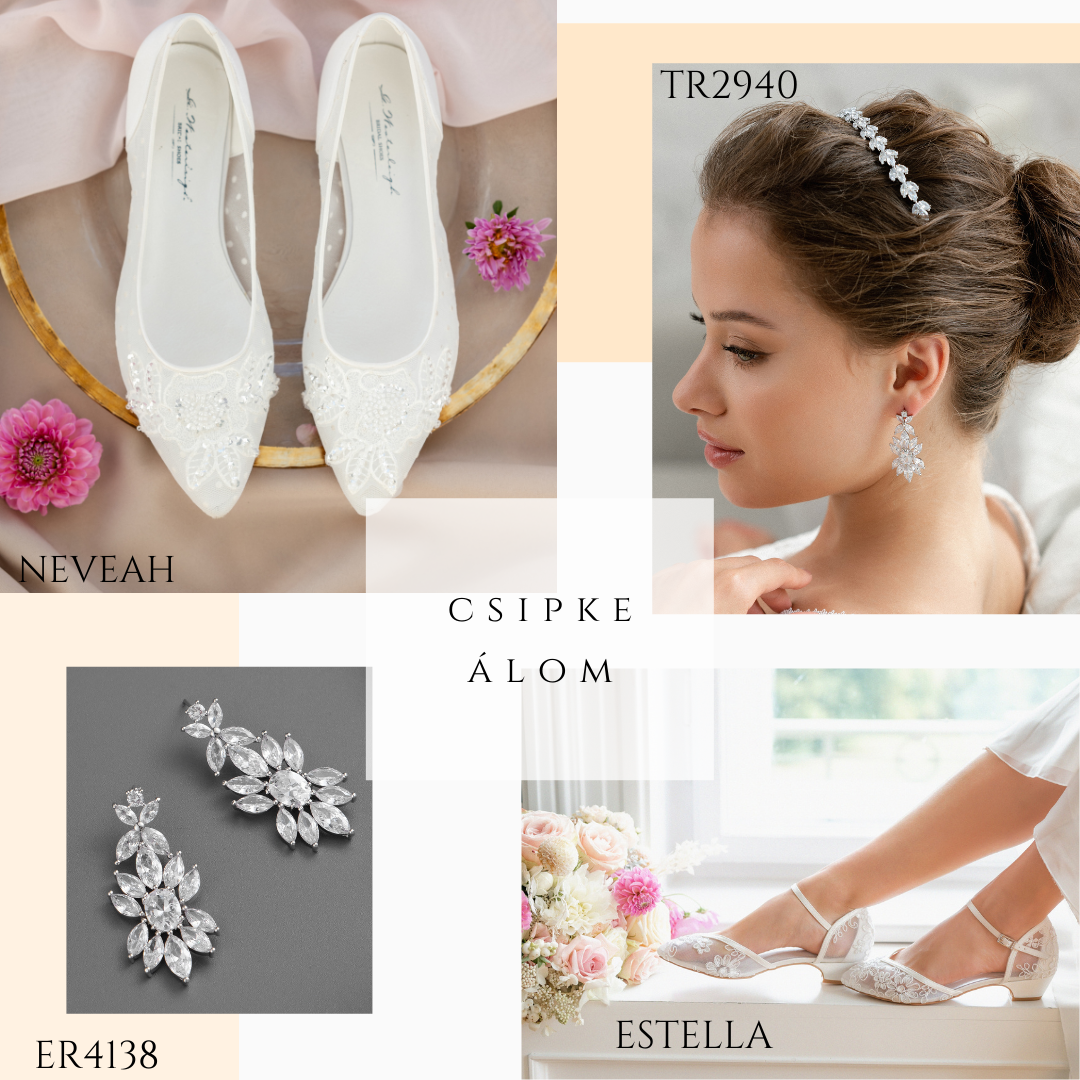 Lace is the main symbol of romantic style. We created our latest lace models based on traditional elements, mixed with a touch of modernity. In addition to the fineness of the lace, larger jewelry is also allowed.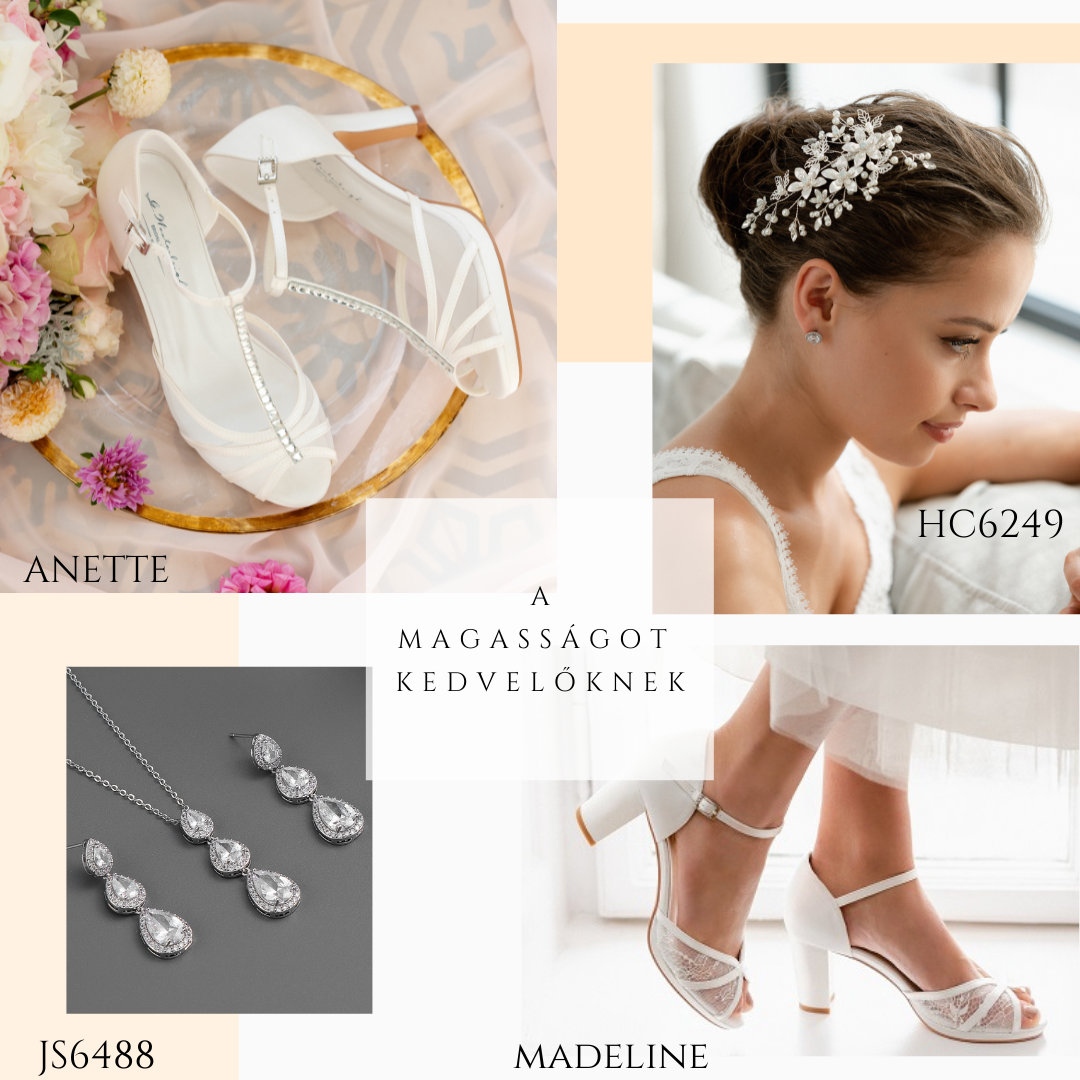 We also offer an alternative for those who like high-heeled shoes, of course taking comfort into account in this case as well. The more extreme pieces perfectly highlight, for example, a wedding dress with simpler lines.
At G.Westerleigh, we believe that every bride can find her own style. For more items from our collection, please visit our "Newest products" menu.
2022-01-28 12:14:45